Get up to $4,500 for a hybrid heating system through the Clean Home Heating Initiative -

Time is running out, offer expires in March
For a limited time only, Enbridge Gas customers who are homeowners in Sault Ste. Marie, St. Catharines, Peterborough, and London can receive up to $4,500 for installing a hybrid heating system through the Clean Home Heating Initiative, funded by the Ontario Government.
A hybrid heating system consists of an air-source heat pump unit with smart controls. The system switches between energy sources to heat and cool your home as efficiently as possible, helping to reduce energy costs and your carbon footprint.
Time and space are limited, contact a participating HVAC contractor today to get started.
Find a participating HVAC contractor

The Clean Home Heating Initiative is a collaboration between Enbridge Gas and the Government of Ontario. Funds for the Initiative along with the customer financial incentives are provided by the Government of Ontario from the 2022-2023 Budget.
---
Saving energy is just one of the benefits
Space heating accounts for more than 60 percent of the energy use in the average Canadian home.* A hybrid heating system with smart controls switches between electricity and natural gas to heat and cool more efficiently to reduce emissions, optimize energy use and reduce long term costs.
---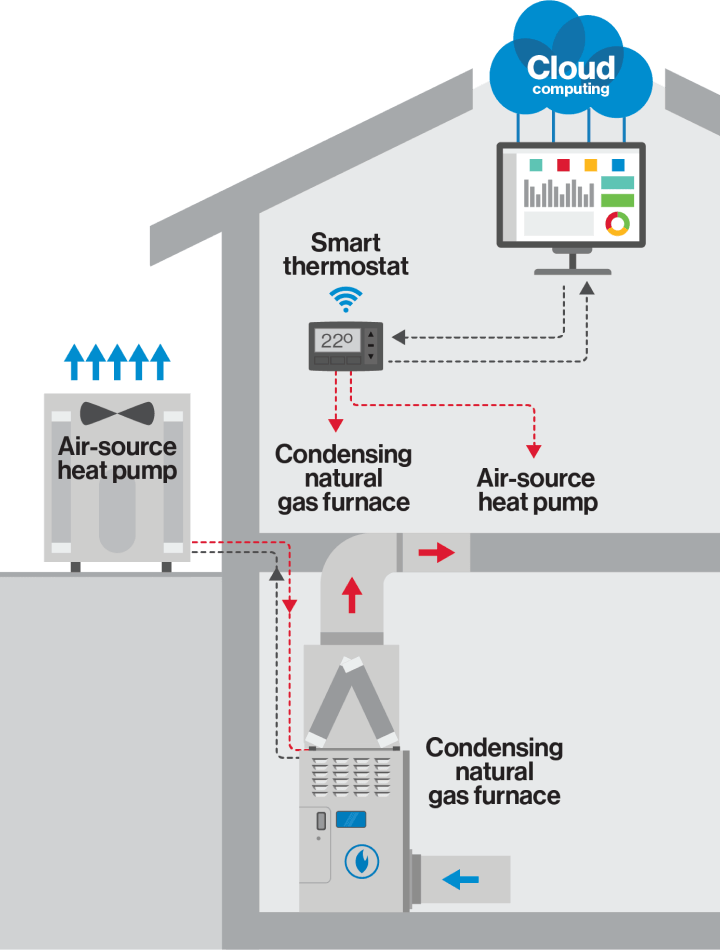 How does hybrid heating keep energy costs low?
Hybrid heating uses two systems to heat as efficiently as possible. An electric air-source heat pump will heat the home when temperatures are moderate and electricity rates are low. When temperatures are cooler, or at times when electricity rates are at their peak, the system automatically switches to the condensing natural gas furnace, ensuring comfort on cold winter days. The home will also be cooled efficiently by the heat pump.
During the summer:
The air-source heat pump draws heat from inside the home and moves it outside, cooling more efficiently than an old air conditioner.
During the spring, fall and winter:
The air-source heat pump draws heat from outside and moves it indoors. If it gets too cold outside, the condensing natural gas furnace will automatically kick in to provide backup heat.
---
See why homeowners Sheri and Pat switched to hybrid heating
"The installation went very smoothly… They were here for a day and then they set everything up. They handled all the paperwork and a cheque showed up from the program. The house is much more even in temperature."

– Homeowners Sheri and Pat installed hybrid heating


London, Ontario
---
You own a home in Peterborough, St. Catharines, Sault Ste. Marie or London, Ontario.

You're an Enbridge Gas residential customer and on time-of-use electricity rates.

Your home is heated with a condensing natural gas furnace.
You have a central air conditioner or are looking to replace or add a new air conditioner. Even if you don't have AC, you can still participate.

Your home has wifi for the smart controls to access.
Limited spaces available
Get up to $4,500 in incentives for an electric air-source heat pump