Accelerating adoption of greener, cleaner fuels
Transportation is the largest source of greenhouse gas (GHG) emissions in Ontario. Electric vehicles will play an important role in reducing emissions. Many vehicles however, such as heavy transport trucks, can't be electrified with the technology available today.
The transportation path to net zero outlines how we're accelerating the adoption of clean fuels, like renewable natural gas (RNG), investing in low-emission technologies like compressed natural gas (CNG) vehicles and exploring ways to provide hydrogen for fuel cell electric vehicles.
---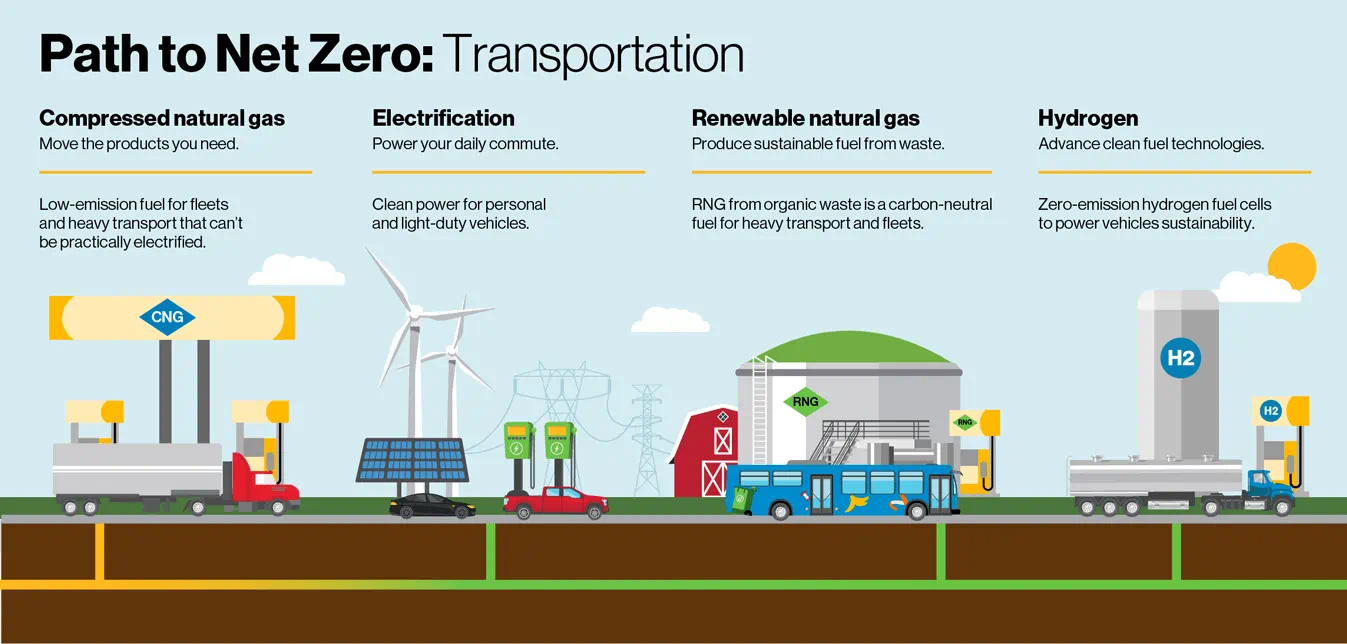 ---
Innovation in action
Renewable natural gas (RNG)
We're unlocking the potential of organic waste, transforming it into a renewable green fuel for a cleaner commute.
Ontario's first carbon-negative bus
In Hamilton, Ontario, switching from diesel to RNG diverts 450 tonnes of landfill and the emissions that would otherwise be released into the air, for a cleaner commute.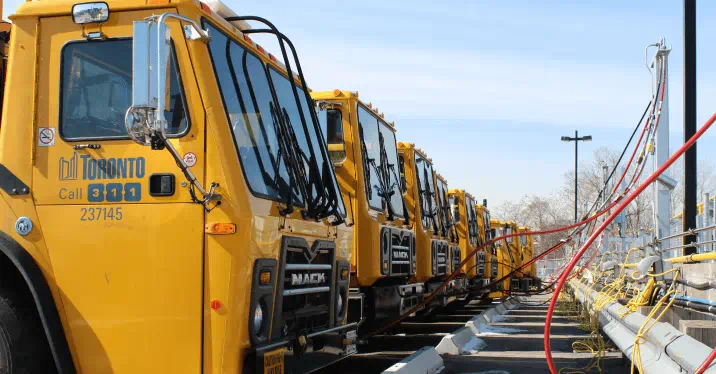 Turning Green Bin waste into fuel for fleets
The City of Toronto processes 35 percent of its organic waste from its Green Bin program. It's then transformed into carbon-neutral RNG.
---
Compressed natural gas (CNG)
For heavy-duty vehicles that can't be electrified today, CNG is a proven alternative that lowers emissions immediately to deliver the goods we depend on more sustainably.
Hamilton fuels fleets for less with CNG
The City of Hamilton expanded its fleet with more than 130 new CNG buses and mitigated the rising costs of diesel.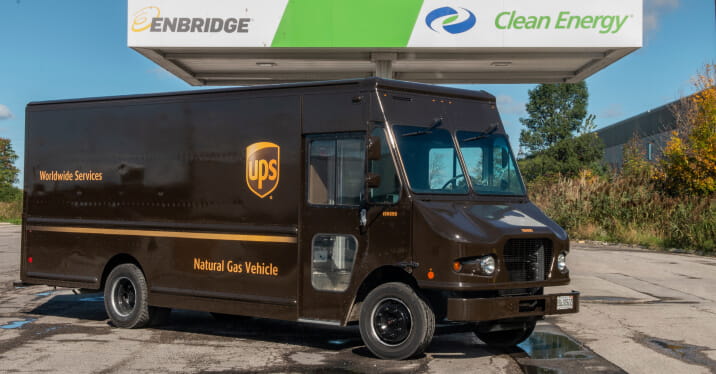 UPS delivers on sustainable transport
United Parcel Service (UPS) | London, Ontario
Converting 25 package delivery vans to operate on CNG will reduce 700 metric tonnes of GHG emissions—equivalent to removing 152 cars from the road.
---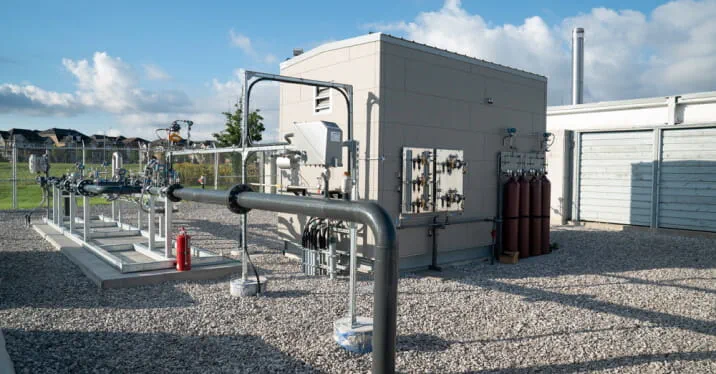 Renewable hydrogen
We're innovating to advance renewable hydrogen in Ontario. It's being used today to store renewable energy and over time can be used as a clean fuel for vehicles.
---
Why be optimistic about a clean energy future?
Hear our Enbridge Gas team members highlight some of the key innovations they are driving within the transportation sector.
"We have a whole portfolio of solutions available to you. You don't have to wait until 2030, 2040, 2050 to reach your goals. We have turnkey solutions that require no upfront capital and you can reach net zero in the next two to three years."
Joey Cyples, Business Development Specialist, CNG
---
See other clean energy solutions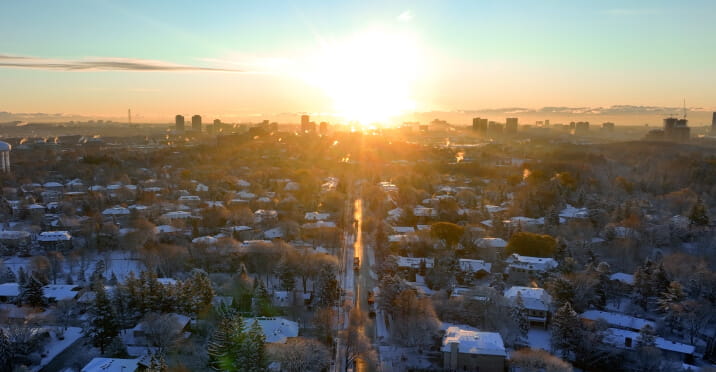 Getting to net-zero emissions
Learn how we're working together for a sustainable future by advancing new technologies, introducing new renewable fuels and finding practical ways to use less energy.
See technologies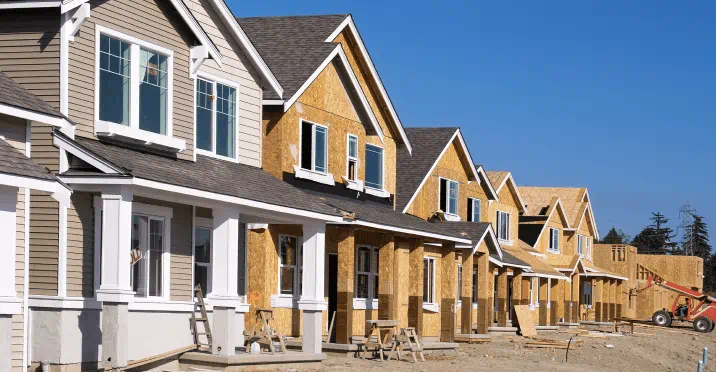 The building path to net zero
Innovative technologies are reducing emissions produced from building heat. See how we're greening the second largest source of emissions in Ontario, affordably and reliably.
Explore solutions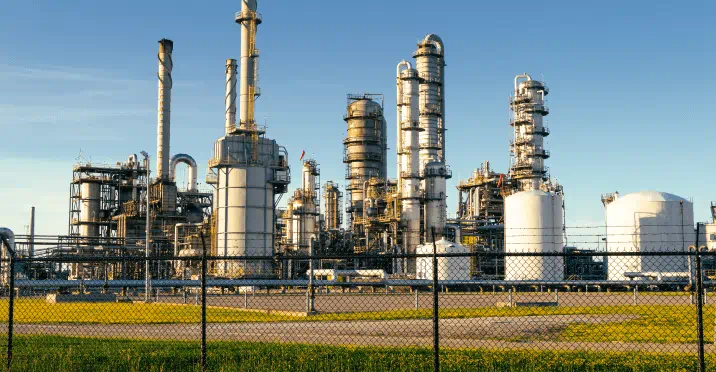 The industry path to net zero
Industrial processes are the third largest source of emissions in Ontario. We're investing in hydrogen and carbon capture and storage to power industry where it can't be electrified.
Explore the path