How to pay your bill
Payment Arrangements
Need help paying your balance? We can help.
Payment arrangements allow you to make installment payments against your balance and prevent collection activity on your account. Based on your account status, you can choose the number of installments, amounts, and payment dates.
Log in or register for an online profile and navigate to the Manage My Account tab to set up an arrangement. This option will only display if your account is eligible.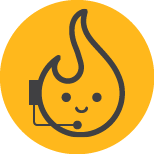 Try our Virtual Assistant!
Did you can also set up your payment arrangements using our virtual assistant, cozE™? Try it today.
---
Need help with your natural gas bill?
The Ontario Energy Board has launched the COVID-19 Energy Assistance Program (CEAP) to help residential, small business and registered charity customers with their Enbridge Gas bill. See if you qualify for a one-time credit.
In the meantime, rest assured that we understand that this is a particularly difficult time for customers, who may be facing financial challenges. We also offer flexible payment arrangements you can set up yourself online at anytime.
Pre-authorized payment
Enjoy the convenience of pre-authorized payments.
Sign-up and your balance due will be automatically withdrawn from your bank account on your due date.
To sign up for PAP login to your online profile and navigate to the manage my account tab.
Payment through MyAccount
Use your banking information to pay your Enbridge Gas bill directly through your online profile. Navigate to the Manage My Account tab and scroll down to 'Make a Payment' under My Payment Options.
Online banking
You can pay your Enbridge bill directly from your bank through your online banking website. When setting up the payee for the first time, add Enbridge Gas Inc.
Credit card payment
Pay your Enbridge bill by credit card using KUBRA EZ-PAY. MasterCard, VISA or VISA Debit are accepted.
A charge of 1.75% of the total payment will apply and will appear as a separate item on your credit card statement. The payment amount cannot exceed $5,000 and you are responsible for ensuring that Enbridge receives your payment on time.
To complete your payment, sign up for an online account with KUBRA EZ-PAY, and have your credit card details, payment amount and Enbridge Gas account number.
For more information, visit KUBRA EZ-PAY FAQs.
Standard mail
Send a cheque or money order (no cash)
Enbridge Gas PO Box 644 Scarborough, ON M1K 5H1
Cheques should be made payable to "Enbridge" and include your account number on the front of your cheque.