This pilot project is located within the Municipality of Parry Sound.
The Integrated Resource Planning (IRP) alternatives being explored for this pilot project include supply and demand side alternatives, such as compressed natural gas (CNG) and enhanced targeted energy efficiency (ETEE) programing respectively which will be explored to reduce peak demand on the system.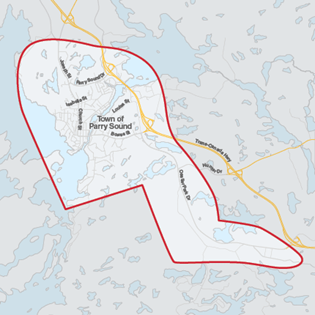 Communities affected
The pilot project will cover homes and businesses of Enbridge Gas customers in the Town of Parry Sound.
Why we're doing it
The pilot's purpose is to test and better understand the impacts that enhanced targeted energy efficiency (ETEE) has on reducing the natural gas system's peak period demand.
ETEE involves offering targeted energy efficiency programs that support a reduction in peak period natural gas demands. While traditional energy efficiency programs have been in place for some time, using them to reduce peak demand requires more investigation. This pilot aims to better understand how to design, deploy and evaluate an ETEE program, and its impact on peak period natural gas demand.
Impact
Our pilot projects have been designed to minimize disruption in our communities. Automated meter reading (AMR) technology will be installed on a subset of customers meters, which will allow us to collect hourly usage data. This will help us better understand how enhanced energy-efficiency programs impact natural gas demand. Enbridge Gas is in the process of establishing a timeline for the installation of these technologies.
You may see Enbridge Gas vehicles and contractors working in your neighbourhood. Installation of AMR technology will not disrupt your service and there will not be any additional charges on your bill.
The pilot design will offer a range of our enhanced energy efficiency programs, so be sure to check back on this website for more information.
Benefits
This pilot project represents an opportunity for your community to participate in the energy transition in Ontario. The learning's from this project will lead to better decision making and informed system development, and shape asset management planning for years to come.
The pilot will also benefit participating customers in the community through enhanced energy efficiency programming that can help reduce consumption and potentially lower energy bills.
Community outreach
During the IRP process, community engagement opportunities will occur to ensure that the community is advised of the project. Public consultation is a key component of the IRP process.
Community outreach will occur in 2023. Please register for updates.
Project timelines
Please check back for more updates on project timelines.